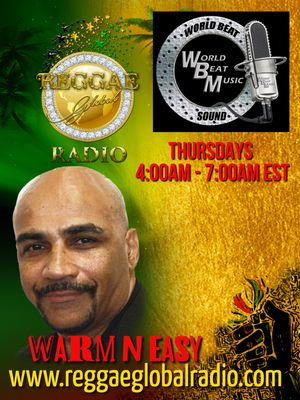 WORLD REGGAE BEAT WITH WARM N EASY - UK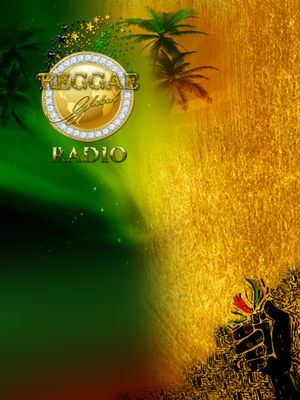 BIOGRAPHY
DJ Warm 'n' Easy first started on his musical journey at the tender age of 9 years old! 
His parents were one of those early emigraters from the island of Jamaica that came to the United Kingdom just after the famous Windrush. 
As early as they came they needed something to remind them of the Caribbean - friends would come around, the records would come out and so began the nights entertainment. They would listen to the music from Jamaican artists such as Desmond Dekker, Prince Buster, Jimmy Cliff, Alton Ellis and groups such as the Pioneers and the Wailers. 
After leaving school he began to travel out of town to clubs where he became interested in sound systems. A group of friends started a sound for the up coming youth called Falcon Music, and this turned out to be a sound that toured to many towns and clubs. 
Warm 'n' Easy was invited to become a presenter on community radio, a resident DJ in a local club and resident DJ in a London Club called All Nations, being involved in major shows, such as Maxi Priest, Ken Boothe and Gregory Isaacs to name a few. 
This is an exciting time for Warm 'n' Easy after presenting his weekly show on BBC Three Counties Radio From 2006 - 2013 He now works on Another legal Channel.Diverse 102.8fm & Online www.diversefm.com with content like news, views, interviews, all the latest in the dancehall scene, as well as a look at music from the past and it's influence on the present day reggae scene. 
And Now Warm n Easy Joins The Frontline Of Reggae Production With His Recently Formed Worldbeat Music Production,And Working With a Wealth Of Talented Artists From The World Of Reggae, Such as Papa Michigan,Peter Spence,Isiah Mentor,Helen Rogers From Britfunk Group (Direct Drive),Adele Harley,Chardel, Just To Name a Few. 
Listen to Warm 'n' Easy On  WORLD REGGAE BEAT  @  REGGAE GLOBAL RADIO  &  DIVERSE FM  
every Tuesday 9pm -12 Midnight uk Time for late night grooves and the latest reggae releases.