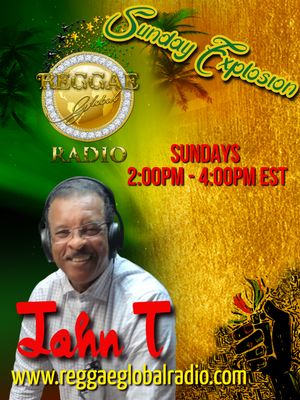 THE JOHN T'S EXPLOSION
biography
RIDE THE RADIO W.A.V.S WITH JOHN T. 
One of south Florida's most popular professional radio personalities is the terrific John T. of W.A.V.S. 1170 a.m. Morning Ride Show.  He refreshes you every morning – Monday to Friday from 7: a.m. to 10: a.m. Tune in your day for a bubbling start with the Morning Ride.  No matter where you are, you can enjoy the Jamaican -T from your personal cup on the worldwide web  www.wavs1170.com .  John T. has been one of, if not the longest, morning show radio host in South Florida - Thirty years strong and still counting.  His audience and popularity has grown by leaps and bounds. His show is rated highly in listenership in the Arbitron survey for morning shows on radio stations in south Florida`s tri-county area. 
John says "the concept of my show is to inform, educate and entertain.  Some of the main features are news and commentary from Winston Barnes, sports report by Ed. Barnes, weather and traffic report by Shawn-T, all in the midst of popular oldies and new releases of Reggae, Soca/Calypso and for good measure, occasional sips of R&B and Hip Hop. All are delivered with quality and consistency by the inimitable presenter. On Tuesdays, there is the friendly musical clash, from 8:26 a.m., with two competing artists which involve call in listeners voting participation; and on Wednesdays, is the oldies feature from 9:05 a.m. and Friday mornings at 9 a.m. the popular 'Spotlight' segment is a 15 minutes interview feature that focuses on artists from different genres of music including legends such as Candy Station, Jerry Butler and The Manhattans.  In addition, some of the dignitaries John T. has interviewed are:  Former Prime Minister Portia Simpson Miller, Professor Rex Nettleford, Charles Hyatt and Leonie Forbes, among others. 
John Tyrell Hodgson p/n/a John T. was born in the Parish of Trelawney, Jamaica; he is the 15th of 18 children from his father's two marriages - producing 9 sisters and 8 brothers.  John T. attended William Knibb Memorial High School. While in high school he realized he had two main callings. One was in law and the other in radio. John recalls, "I can remember when I was in fourth form, I was influenced by Jeff Dixon (Free- I) and then by Errol Thompson (ET), two of Jamaica's late, great radio professionals. After leaving high school I was not sure whether I wanted to do law or broadcasting; however, I ended up in one aspect of law when I became a detective with the Criminal Investigating Department (C.I.D.) where I served for 13 years.   For two of those years I worked as one of Prime Minister Michael Manley's security officer. It was during my years as a detective that I became familiar with the broadcasters at J.B.C. (Jamaica Broadcasting Corporation). I did commercials for different announcers at that station. It was Errol Thompson who heard my voice one night and encouraged me to do announcing professionally." 
In 1984, John T. decided to leave the C.I.D. He travelled to New York, Texas, England and Canada before he finally settled in Fort Lauderdale, Florida with then wife Diane.  While living in Florida he pursued a new career in marketing and sales as an insurance agent for one year. Then he met Tino Geddes, his old friend and colleague from J.B.C. Radio. John reveals, "When I saw Tino he told me that there was a vacancy at W.E.X.Y. Radio Station where he was working as a Journalist. They wanted to train a Caribbean person for a Caribbean program. I took up the offer and was trained by Tino Geddes and other senior broadcasters at that station. After six months I went to work with L.Q.Y Radio Station for three months before moving  on to W.A.V.S. 1170 A.M. 
At that time, W.A.V.S  was a Spanish Station that was called Radio Latino and carried only four hours of Caribbean programming each day from 6: A.M. to 10: A.M. with host, the highly respected Marie Garth. I was employed to extend the Caribbean program from 10:00 A.M. to 2:00 P.M. I knew Marie Garth from Jamaica and had a lot of respect for her in the field of broadcasting. I would relieve her every Saturday morning - so I would go to work an hour early to learn from her." 
The W.A.V.S. listenership response was so good that the management decided to switch the station format from Spanish to a full Caribbean radio station. As the Caribbean community in Miami, Fort Lauderdale and West Palm Beach became aware of the consistency of the station, listenership continued to grow.  John T. gained tremendous experience from working with some of the best radio professionals from Jamaica. As a result  of his training at the hands of these professionals, when John  attended broadcasting school he was far ahead of the other students and was asked to assist in training some of the students in certain areas. 
When told that he sometimes sound like the senior broadcaster Winston "The Whip" Williams, John T responded with "I accept that as a compliment to be compared with a great professional; however,  the person who I have learned the most from – hands on -  is Jerry Lewis, and the person who I would emulate is the late Jeff Dixon (Free – I). 
John T. is the proud father of five children, three girls and two boys. He is an avid sports lover and a cricket critic.  John T. was the captain of his high school cricket team for 2 years, and later was a member of the Jamaica Constabulary cricket team playing in the senior cup division. That team was the first "Police" Senior Cup team to tour the United State (in 1975). John has also played against West Indian cricket stars such as Lawrence Rowe, Richard Austin and Morris Foster at the senior cup level in Jamaica. Mr. T. is in his element when the World Cup cricket is being staged in the Caribbean area and occasionally when professional cricket comes to South Florida. 
John T. says "I would encourage our radio audience to tell the business people to support W.A.V.S. Radio by advertising on the station because what goes around comes around. The media is a means by which we communicate our culture and Caribbean way of life. If our listeners support the business people and the business people support the radio station, then we all will continue to benefit and grow. 
When asked about what fuels his drive on 'The Morning Ride,' he replies, "My motivation comes from my listening audience who call in to tell me thanks for the music and information that I provide". So wherever you are, tune in and keep warm with a hot cup of John T. in the morning. He covers South Florida like the sun.