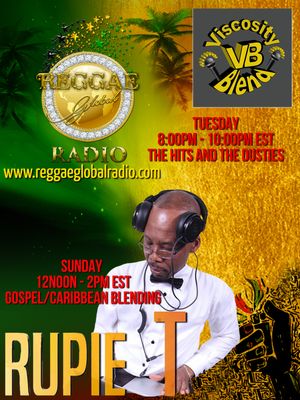 CHECK OUT "RUPIE T" FROM NEW JERSEY TUESDAYS WITH THE HITS AND THE DUSTIES & SUNDAYS WITH GOSPEL/CARIBBEAN BLENDING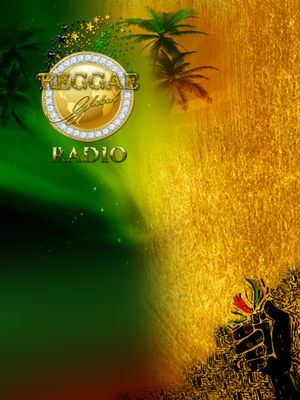 BIOGRAPHY
Radio has not been the same since the robust and engaging voice of this radio personality hit terrestrial radio in the early 1980's and made a name for himself. 
Fast forward through today where he now makes Internet radio his castle. 
Rupie T has been a radio personality for over 38 years. He migrated to the US from Jamaica in May of 1983. In the fall of 1983 Rupie T started his broadcasting career at THE STATE UNIVERSITY AT BINGHAMTON, NEW YORK (SUNY Binghamton), on radio station WHRW and was actively involved in the community for over 14 years.  
He joined WUCI (UHURU communications) a minority owned and operated radio station in Binghamton, NY in 1984 where he hosted a Saturday afternoon radio program "Reggae Vibes".  
In 1993 Rupie T co-hosted a weekly evening program on WVKR in Poughkeepsie, NY at Vassar College. That gig ran for more than 8 years. In 2010 Rupie T was instrumental in working with the Haitian disaster relief effort with WVKR in Poughkeepsie, NY.  
In 1994, he relocated to Brooklyn, NY and was a part of the Caribbean blend team at WNWK (a Manhattan-based station in NYC). While working with this team, he was heavily involved with promotional activities including hosting, commercial voice overs, and event emcee duties. 
Rupie T, later settled in central New Jersey, where he is widely known and respected radio personality.  He hosted radio showcases on several local community radio stations in Essex county where he had "The Rendezvous", for the mature audience. 
Rupie T went Platinum in 2016, when he created his own Internet radio platform called ViscosityBlend. Now with total control of music programming and building the ViscosityBlend brand, his radio skills shine on "Da Blenda", a Wednesday Nights format comprising of red light R&B ballads, Soft Rock, and smooth Lovers Rock Reggae. Live Sunday Gospel segments, plus classic and current Caribbean Reggae hits adds spice. 
Throw in some Jazz, Up-tempo R&B Jams, Afro-beats, Latin-beats, Soca, World music, Artist interviews, Commentaries, and live syndications, and you are alive on VISCOSITY BLEND. #ViscosityBlend.com 
ViscosityBlend.com is online 24x7x365. It is simulcasted globally on Tuesdays, Wednesdays, and Sundays and is carried by more than 10 network stations. 
 
Contact Rupie T: rupiethompson@gmail.com